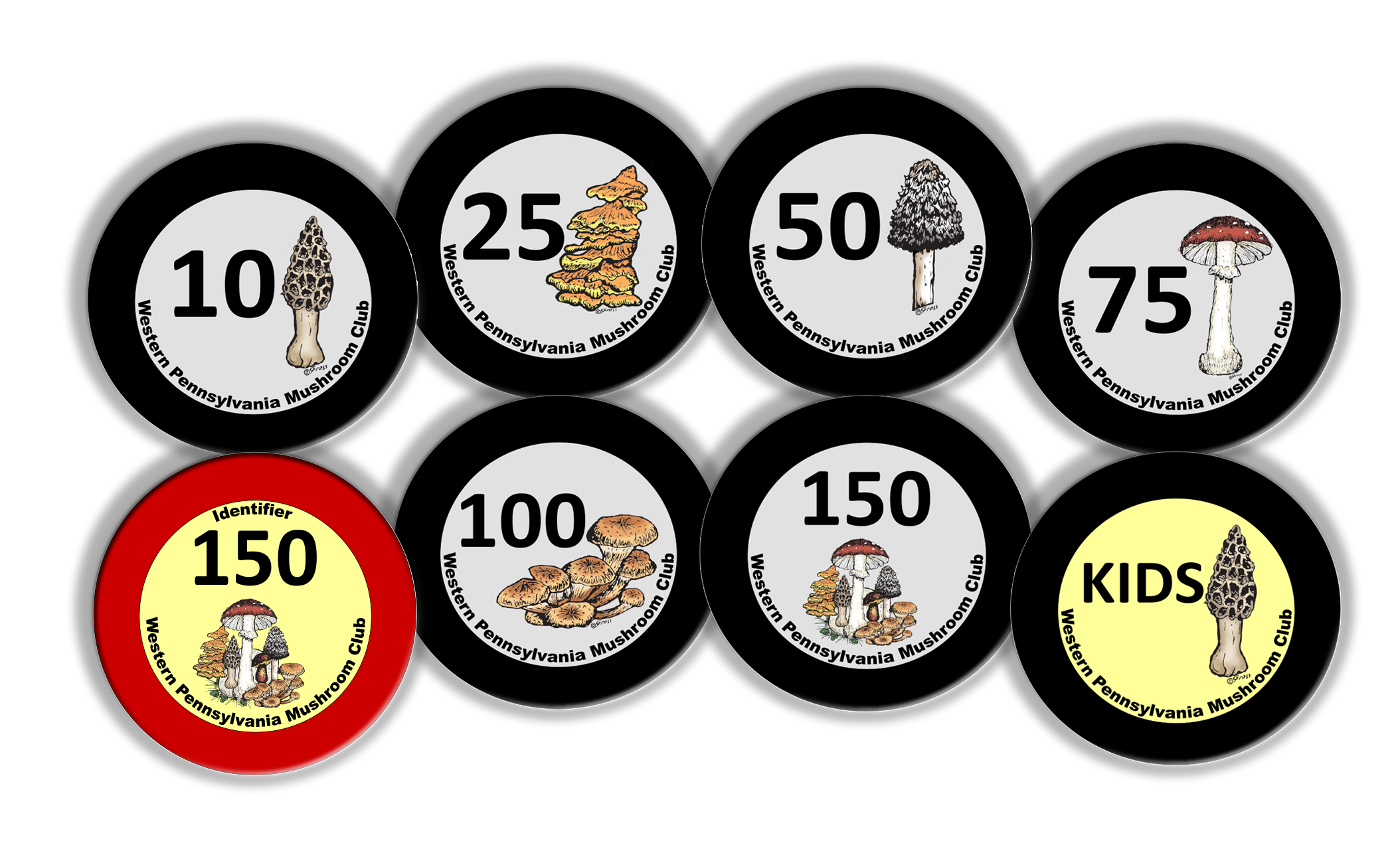 John Plischke III Award For Mushroom Knowledge or the Button ID Program.
Award Objectives of the Button ID program
New Mushroomers
Have fun learning new mushrooms
Get members started identifying mushrooms
Reward them as they make progress
Experienced Member
Have fun learning new mushrooms
Get more club Identifiers & Mycologists
Motivate Members to document mushrooms they know
STATUS of the AWARD PROGRAM
Started in 2009.
Buttons have been made for a variety of levels.
Club Members will develop & maintain their own lists of mushrooms.
Club Mycologists & Identifiers will certify mushrooms on list.
Certification means club member & mycologist or identifier agree on the ID.
PICKING MUSHROOMS TO EAT REQUIRES BEING 100% CERTAIN OF THE IDENTIFICATION OF THE MUSHROOMS INVOLVED. Those eating wild mushrooms must take personal responsibility for the mushrooms they eat.
Procedure for Earning Buttons
10 Level Button Submission
Prepare a list of ten or more mushrooms you recognize
Submit on a sheet of paper (handwritten or simple computer doc) or an email to the WPMC Button Program Committee
Common Names or Scientific Names are acceptable
25 Level Buttons
A list of 25 or more mushrooms that you commonly recognize
Listing where & when you have seen them is optional
Common Names for some are still acceptable, but including scientific names is desirable
Submitting on a sheet of paper (handwritten or simple computer doc) is still acceptable.
The WPMC Button App is now an acceptable way of recording your list
Submit to the WPMC Button Program Committee either in person or via email
Ideal Submission for Higher Level Buttons (above 25 Button)
You should have actually seen most of the mushrooms you are placing on your list and held them in your hand.
You should have found most of the mushrooms so you can give a date and location where found. Location can be very general (i.e. Allegheny County or North Park).
A photo of your mushroom is desirable, particularly for less common mushrooms.
Having a WPMC Identifier verify your identification at the time of the find is very desirable.
Using the WPMC Button App or iNaturalist is now a good way of maintaining your list.
When you have reached the appropriate level (i.e. 50, 75, 100, 150), submit your list the WPMC Button Program Committee.
If you have questions about how to participate in the Button ID Program, please feel free to bring them to any WPMC Identifier or member of the Button Program Committee.  Remember to goal is to have an enjoyable experience as you learn to identify more and more mushrooms.
Club Mycologist & Identifiers
Club mycologist & identifiers are human and volunteer their services.
They do not know every mushroom and are still learning themselves.
They are free to pass on certifying specific mushrooms.
Mushroom identification can be complex.
Easy List Generation
We recommend using iNaturalist to track your observations and species. iNaturalist provides a free, easy-to-use method for recording your encounters with other organisms and sharing them with others. Download it today to see firsthand how it works; join the "WPMC Western Pennsylvania Fungi" project and add your observations. You can then export the species list from iNaturalist or just share your iNat account name  with Julie Travaglini at ButtonID.
Alternatives to iNaturalist:
Go to WPMC Website and use the Species List Generator
Check off Mushrooms known (There are over 800 mushrooms on this list)
Print out the list and also e-mail list to Julie Travaglini at ButtonID
Or you can use a simple form to track the species.
Download the ButtonID pdf form.
Either email a completed copy to Julie Travaglini at ButtonID or print it out and bring it to the meeting.