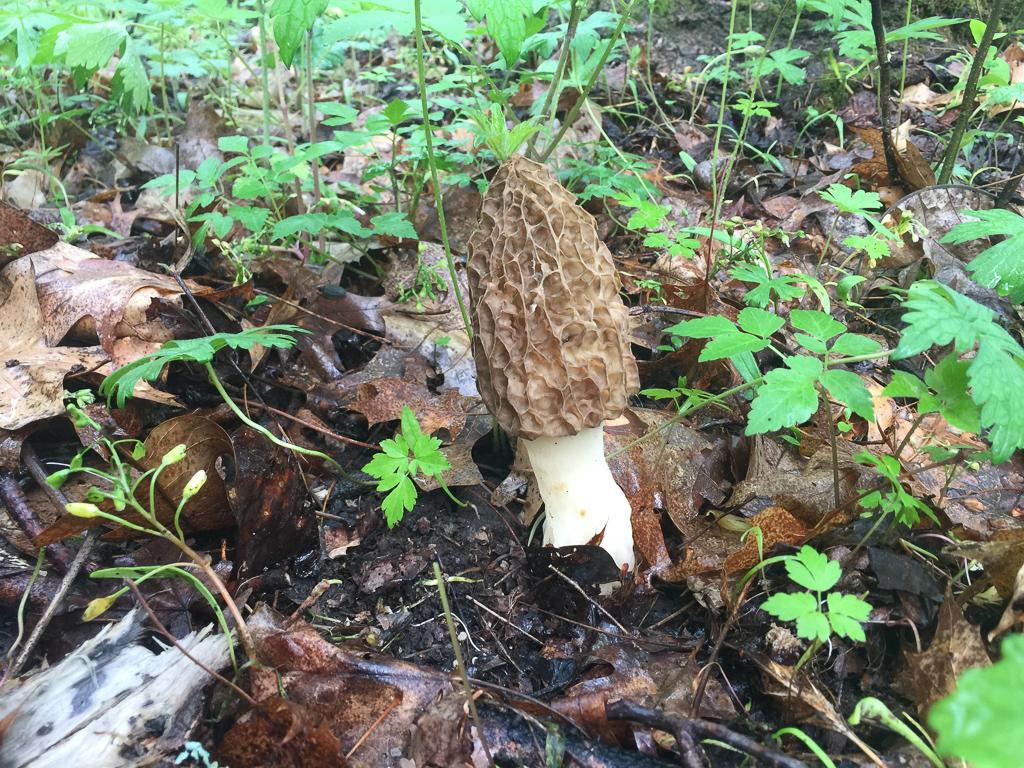 This talk has been presented at a club meeting and the 2019 mushroom education class by Richard Jacob. The plan was to make it into a page on the website but that hasn't happened yet. Until it does here is the talk. There are speakers notes for some of the slides with information on how to find the different species. Click on the cog to open the notes. Please note that the talk shows pictures of various mushrooms but does not go into full details of how to identify most of them. You will still need to use your guide books and other resources in order to learn the distinguishing features for each mushroom. It is also important to be happy with the identity of the mushroom and take responsibility for any decision to eat them. Remember if in doubt throw it out.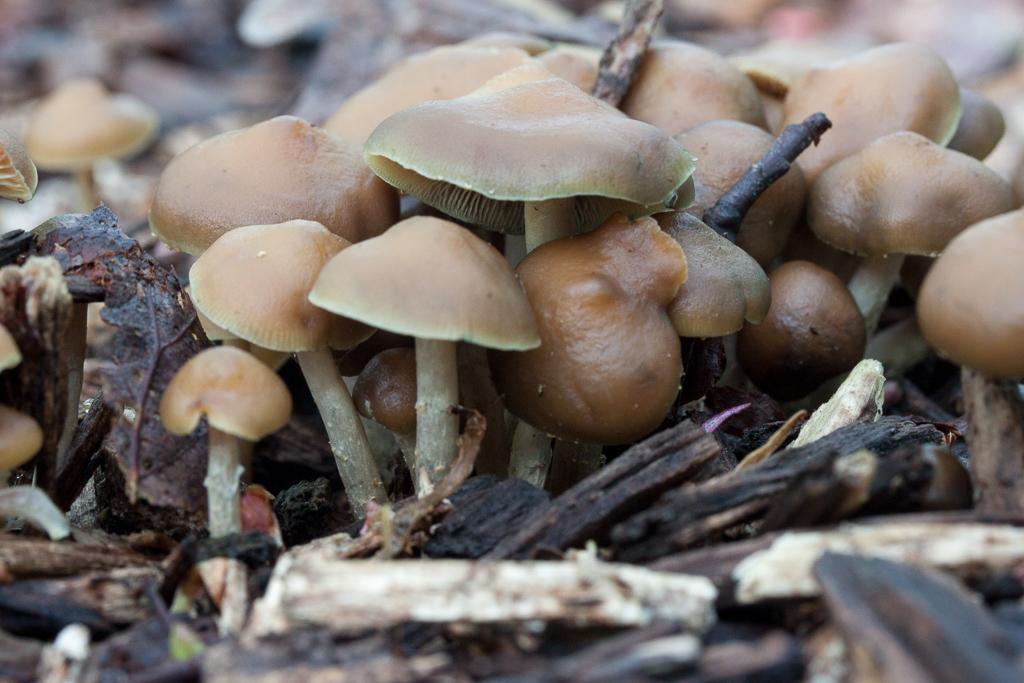 Psychedelic Mushrooms: A New Age of Treatment?
Presented by Past-President Richard Jacob, Ph.D. at the March 2019 meeting.
Psychedelic mushrooms are becoming less controversial by the year.  The presentation covers the mushrooms and chemicals involved, their usage, effects, current research and future directions.  The presentation focuses on the medicinal aspects of psychedelic mushrooms, although some of the information will be of interest to recreational users. The talk also includes speakers notes, click on the cog wheel to see the options and open them.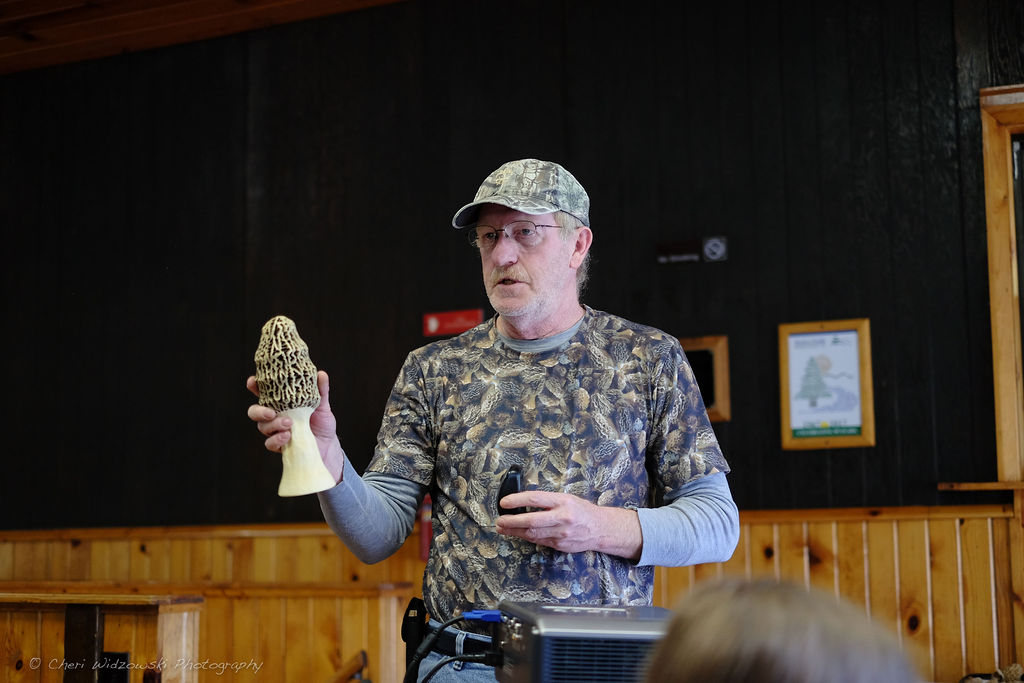 Pictures from Morel talk presened by Bob Sleigh followed by a walk at Pine Ridge Park (with Indiana County Friends of the Parks). Morels were found!
All pictures by Cheri Widzowski Photography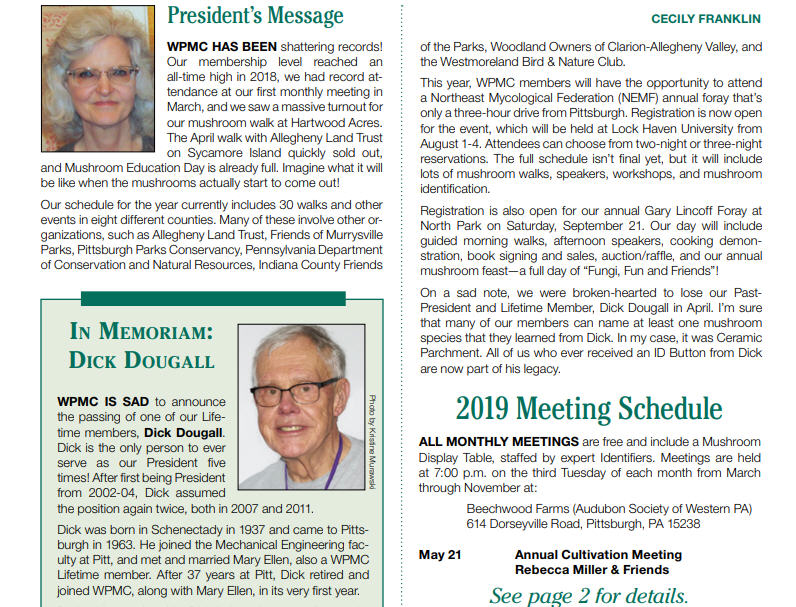 Morel season is underway and we are starting to see reports of finds by members posted to the clubs Facebook page.  When you are not out and looking for morels take a look at the current newsletter to plan which of the over 30 planned walks and events that you might attend.
Species list entered by La Monte Yarroll.
List of species found on the walk at 16 April 2019 monthly meeting:
Auricularia angiospermarum (Tree-ear / Wood Ear),
Exidia recisa (Brown jelly roll),
Ganoderma lobatum (Soft Artist's Conk),
Gyromitra caroliniana (),
Hemitrichia serpula (),
Phyllotopsis nidulans (Mock Oyster),
Pleurotus ostreatus (Oyster Mushroom),
Pleurotus populinus (Aspen Oyster Mushroom),
Sarcoscypha austriaca (Scarlet cup),
Urnula craterium ()
Species not currently on clubs life list:
Tubakia suttoniana (), (Black Spot on Oak)
Botryobasidium sp. (avreum?)
Biscogniauxia marginata (),
Inonotus sp. on Maple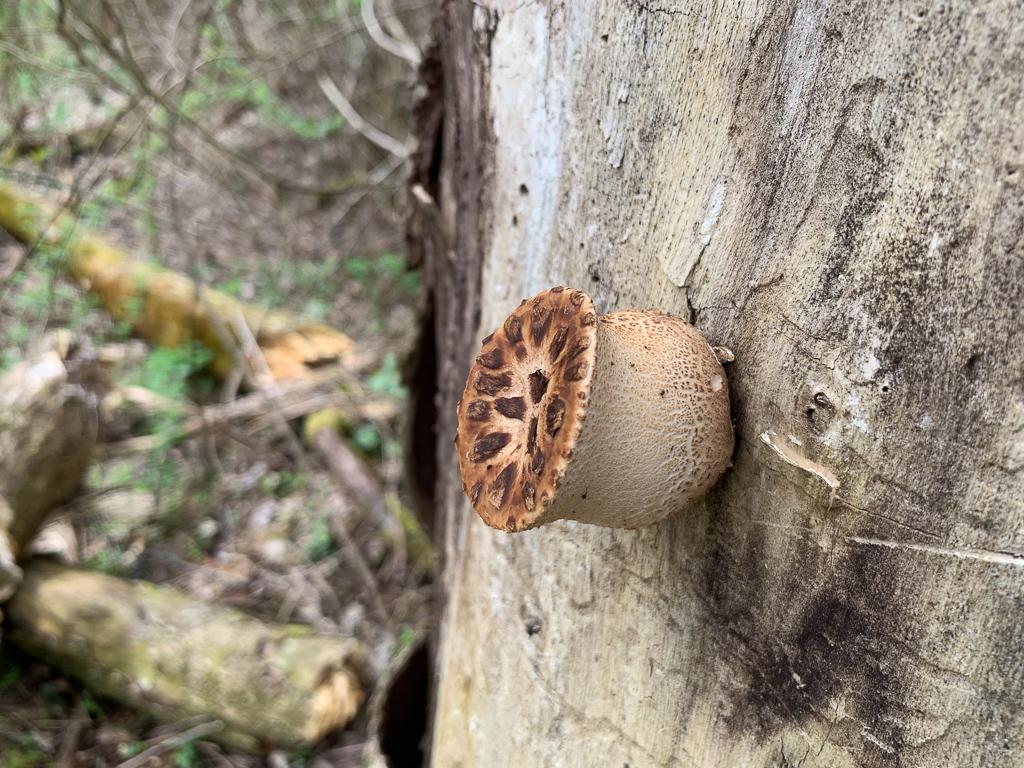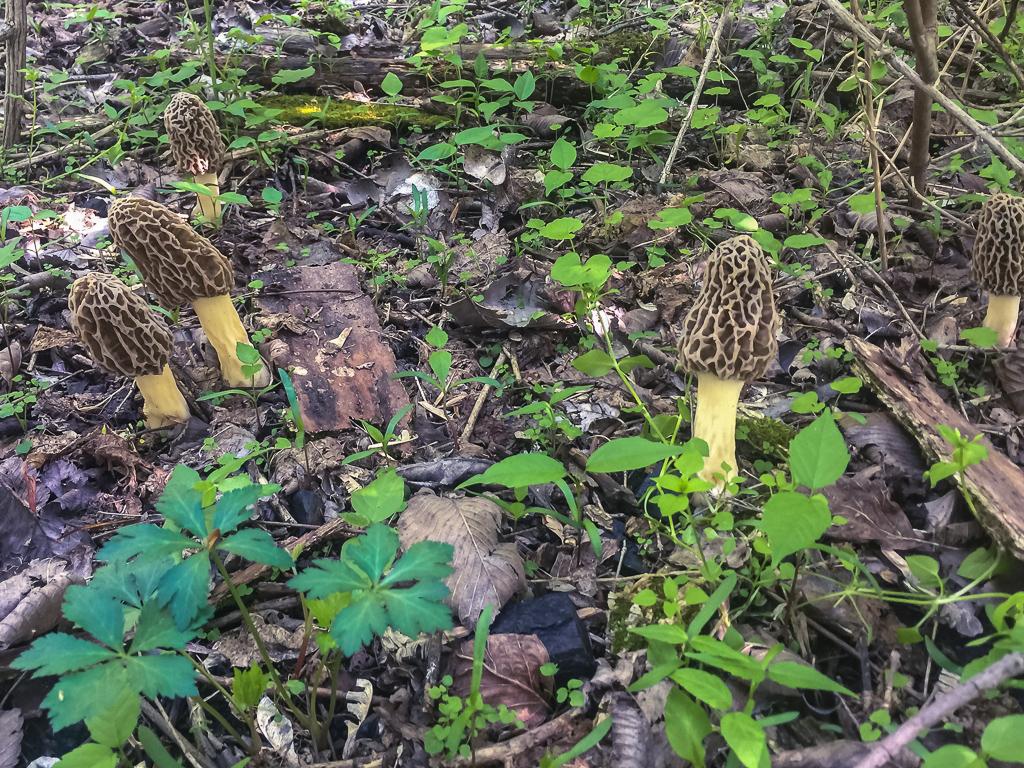 One can even say it has started as club member and early bird Ray Ryczek reported the first black Morel sighting for the season on the clubs Facebook page. There are other reports from Fayette County, on the PA-Morel Mushroom Hunting page. A lot of the Morel sighting map webpages come and go but this one at The Great Morel is still active. Fayette County seems to be the one of the first areas where morels are found in the season but it won't be long before they start appearing in other southern areas of PA.
Need to know more about hunting Morels? Please see this presentation by past presidents Dick Dougall and Jim Wasik. We are also very sad to report that Dick Dougall passed away this week. His dedication to teaching beginners the basics of mushroom hunting will be sorely missed.
There are many natural signs that it is the right time for morels but one of the more scientific indicators is soil temperature. Morels need a consistent temperature of approximately 50-55℉ to fruit. According to this site Pittsburgh is about 50℉ a the moment so we probably need another week and a heavy spring rain storm and things should start getting exciting.
Safety note: I picked up a tick from the garden this week, it did not embed fortunately, so they have also become more active with the warm weather. Please take suitable precautions when you are out and about in the woods at your favorite morel spots.
Happy hunting!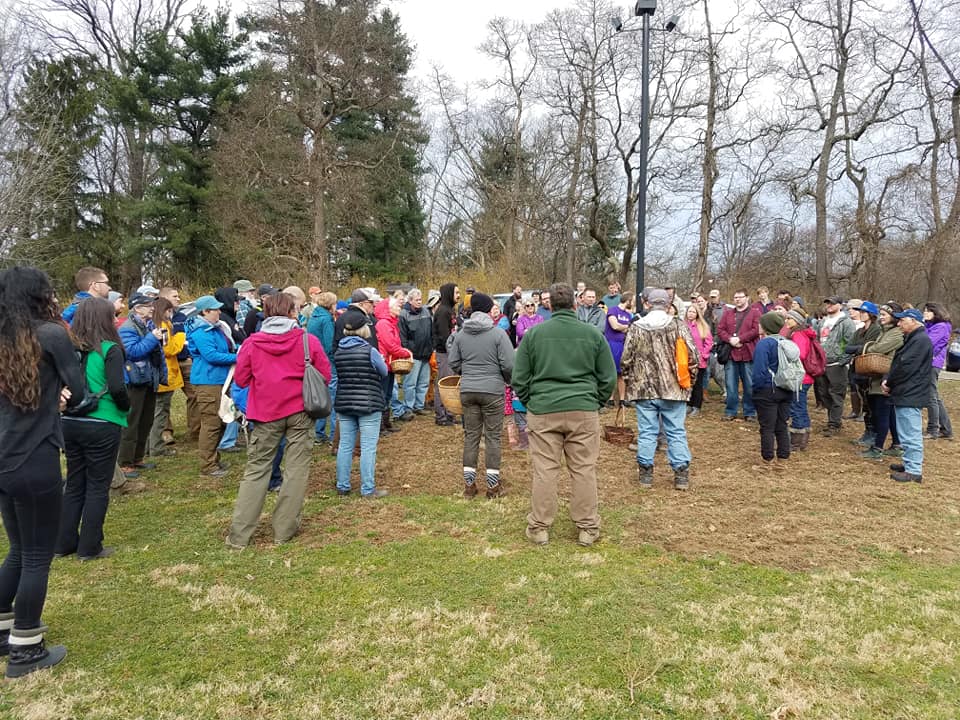 Over 80 people attended the first spring walk with the WPMC at Hartwood Acres in Allegheny County.  Despite rain in the forecast, conditions were mostly dry and temperatures were mild.  Forty species of fungi — mostly comprised of polypores, crust fungi, and a few jelly mushrooms — were collected and displayed at the end of the walk.
Species identified by Garrett Taylor, John Plischke III, John Stuart, Jim Tunney, La Monte Yarroll, Adam Haritan, and others.
Photograph by Kim Plischke.  Species list entered by Adam Haritan.
List of species found on the walk at Hartwood Acres:
Akanthomyces aculeatus (),
Bjerkandera adusta (Smoky Polypore),
Bovista pila (Tumbling Puffball),
Daedaleopsis confragosa (Thin-maze Flat Polypore),
Exidia glandulosa (Beech Jelly Roll),
Exidia recisa (Brown jelly roll),
Ganoderma applanatum (Artist's Conk),
Gloeophyllum sepiarium (Yellow-red Gill Polypore),
Hydnochaete olivaceus (),
Hymenochaete tabacina (Northern Brown Crust),
Irpex lacteus (Milk-white Toothed-Polypore),
Ischnoderma resinosum (Resinous Polypore),
Laetiporus sulphureus (Chicken Mushroom; Sulphur Shelf),
Lycoperdon pyriforme (AKA Morganella pyriformis),
Myxarium nucleatum (Crystal Brain),
Neofavolus alveolaris (Hexagonal-pored Polypore),
Panellus stipticus (Luminescent Panellus, bitter oyster),
Peniophora albobadia (Giraffe spots),
Phaeolus schweinitzii (Dyer's pollypore or velvet-top fungus),
Phellinus gilvus (Mustard Yellow polypore),
Polyporus badius (Black-footed Polypore),
Polyporus brumalis (Winter polypore),
Pycnoporus cinnabarinus (Cinnabar Red Polypore),
Schizophyllum commune (Split Gill),
Scleroderma citrinum (Pigskin Poison Puffball),
Steccherinum ochraceum (ochre spreading tooth),
Stereum complicatum (Crowded Parchment),
Stereum ostrea (False Turkey-tail),
Trametes conchifer (AKA Poronidulus conchifer),
Trametes gibbosa (Lumpy bracket),
Trametes pubescens (),
Trametes versicolor (Turkey-tail),
Tremella mesenterica (Witches' Butter),
Trichaptum abietinum (Conifer Polypore),
Trichaptum biforme (Violet Toothed-Polypore),
Trichaptum subchartaceum (),
Trichia favoginea (),
Xylobolus frustulatus (Ceramic Parchment)
Species not currently on club's life list:
Propolis farinosa
Flavoparmelia caperata
Mycena sp.
Photos by Kris Murawski and Kim Plischke.

Species list entered and identified by Jim Tunney.
List of species found on the walk at Bird Park Winter walk:
Auricularia americana (Tree-ear / Wood Ear),
Daldinia concentrica (Carbon Balls),
Flammulina velutipes (Velvet foot; Enokitake),
Galerina marginata (Deadly galerina),
Ganoderma applanatum (Artist's Conk),
Ischnoderma resinosum (Resinous Polypore),
Trametes betulina (),
Panellus stipticus (Luminescent Panellus, bitter oyster),
Phaeocalicium polyporaeum (Black Matchstick Fungus),
Phellinus robiniae (Cracked cap polypore, Locust polypore),
Polyporus brumalis (Winter polypore),
Punctularia strigoso-zonata (),
Resupinatus applicatus (Black Jelly Oyster),
Sarcomyxa serotina (Late Fall Oyster),
Stereum complicatum (Crowded Parchment),
Stereum ostrea (False Turkey-tail),
Trametes pubescens (),
Trametes versicolor (Turkey-tail),
Trichaptum biforme (Violet Toothed-Polypore),
Xylaria polymorpha (Dead Man's Fingers)
Species not currently on clubs life list:
Plus two additional unidentified Mycena species