Mushroom Picking Rules & Regulations in PA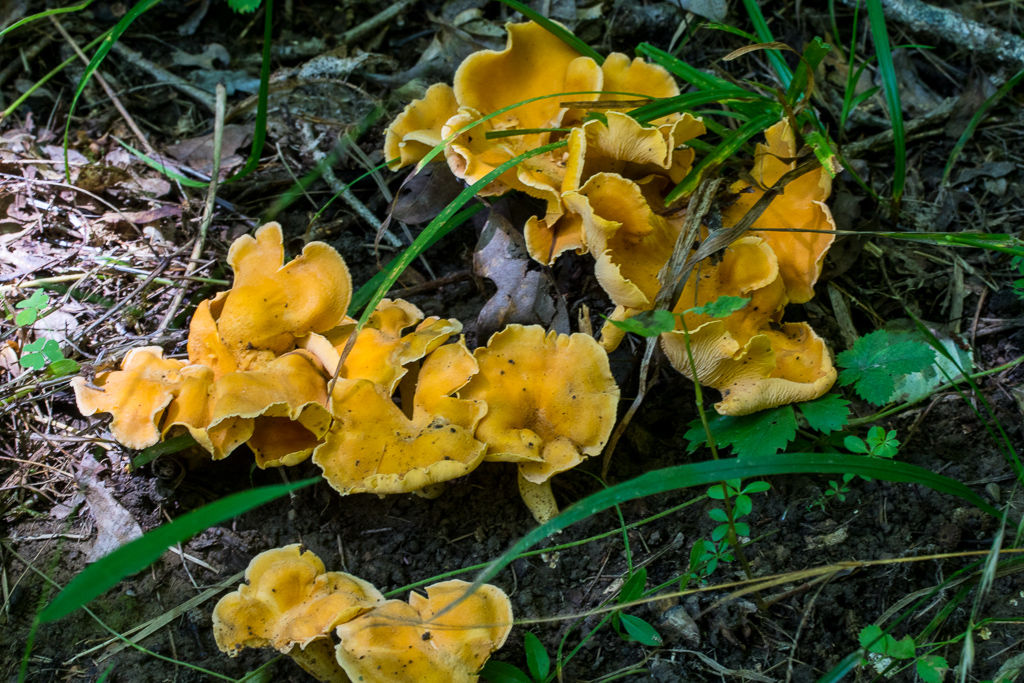 There are a number of rules and regulations about picking mushrooms and selling them. The information provided on this page is not legal advice, but only observations based on WPMC's experience and,  where possible, links to further information. Rules and regulations can and do change, so before loading up your basket please make sure to check the latest policies regarding mushroom gathering on public lands.
The Western Pennsylvania Mushroom Club does not endorse or support the commercial harvesting of wild mushrooms from any state, county or city park.There are specific rules for commercial harvesting and you should review those rules before harvesting mushrooms for sale. Recently, the Food and Drug Administration (FDA) developed guidelines about foraging for sale or buying foraged mushrooms to serve to the public in restaurants. This information has been collected on a separate page. We would like to thank Ryan E. Hamilton, Esq. from Fair Shake Environmental Legal Services for the presentation he made to the club in August 2016 that helped form the initial draft of this document.
WPMC does promote the gathering of mushrooms–where permitted–for recreational, educational and scientific purposes.
Where can I legally forage?
Picking wild mushrooms is restricted on many public lands, but some areas do allow gathering for personal use. Depending on the authority there may be different rules for personal harvesting and commercial harvesting. The information below is not intended to be comprehensive. If you are uncertain about where you can forage, you should consult an attorney or park staff directly.
Pittsburgh City Parks
Looking at the CODE OF ORDINANCES for the City of PITTSBURGH, PENNSYLVANIA we can see the following:
City Code § 473.01(a)(3) titled Removal of Natural Resources. "No person in a park shall dig or remove any soil, rock, stones, trees, shrubs or plants, down timber or other wood or materials, or make any excavation by tool, equipment, blasting or other means or agency."
And
City Code § 473.01(b)(1) titled Injury and Removal of trees, shrubbery and lawns. "No person in a park shall damage, cut, carve, transplant or remove any tree or plant or injure the bark, or pick the flowers or seeds, of any tree or plant."
Reference:
§ 473.01 – PARK PROPERTY.
Allegheny County Parks
Looking at the Allegheny County, PA code Chapter 650: PARK RULES AND REGULATIONS we can see the following:
"The below-listed activities are specifically prohibited in any area lying within a County park. Exceptions to these prohibitions will be recognized only upon possession and presentation of a written authorization signed by the Director of the Parks Department, by signs posted by authorized representatives of the Director, or by immediate direction of a County police officer. B. Shrubs, flowers, trees, grass, turf, soil or rock formations. (1) Picking, cutting, breaking, digging, defacing or injuring in any way."  § 650-1 Prohibited activities.
Reference:
§ 650-1 Prohibited activities
The club obtains written permission, on an annual basis, to hold mushroom walks in Allegheny County parks. WPMC does not support or endorse mushroom foraging in Allegheny County Parks without written permission.
Pennsylvania State Parks
For personal harvesting from State parks the rules are fairly clear. Part of the reason for this is that club member John Plischke III was involved in developing the wording of the rules.
Pennsylvania State park regulations:
11.211. Natural resources.
"(a) The following activities are prohibited except with written permission of the Department, or except as provided in subsection (b):
 Cutting, picking, digging, damaging or removing, in whole or in part, a living or dead tree, shrub or plant.
Damaging, defacing, cutting or removing rock, shale, sand, clay, soil or other mineral product, natural object or material…
(b) The following activities are permitted:
Gathering edible fruits, nuts, berries and fungi, in reasonable amounts, for one's own personal or family consumption. This permission does not apply to wild plants listed in Chapter 45 (relating to conservation of Pennsylvania native wild plants) as threatened, endangered, rare or vulnerable."
Reference:
17 PA. CODE CONSERVATION AND NATURAL RESOURCES. PART I. DEPARTMENT OF CONSERVATION AND NATURAL RESOURCES. Subpart B. STATE PARKS CHAPTER 11. GENERAL PROVISIONS
and
CHAPTER 45. CONSERVATION OF PENNSYLVANIA NATIVE WILD PLANTS
WPMC is not aware of any mushroom species currently listed in Chapter 45 as threatened, endangered, rare or vulnerable.
PA Game Commission Property
Looking at the regulation of activities on Pennsylvania Game Commission property found in Title 58, we can see the following:
58 PA Code § 135.2. Unlawful actions.
"[I]t is unlawful, except with the permission of the person in charge of the lands, or the written permission of the Director to…
(2)  Plant, gather, cut, dig, remove or otherwise injure plants or parts thereof, including trees, shrubs, vines, flowering plants, cultivated crops, mushrooms and fruits of berry-producing plants."
58 PA Code § 135.41. State game lands.
"(a) Restrictions limited. The following exceptions to § 135.2 (relating to unlawful actions) pertain to lands and waters designated as State game lands: (1) Mushrooms and fruits of berry-producing plants may be picked…"
References:
58 PA Code § 135.2. Unlawful actions
58 PA Code § 135.41. State game lands
National Forests (USFS)
Allegheny National Forest (ANF) is Pennsylvania's only National Forest. Fungi (Mushrooms) are included in the definitions of "Special Forest Products" & "Forest Botanical Products" found at 36 C.F.R. § § 223.216 and 223.277, respectively.
The Federal Code further states:
36 CFR §223.239 Free use by individuals.
"(a) Free use. A person may harvest a special forest product from National Forest System lands free of charge for personal, non-commercial use up to the amount or quantity authorized by a designated Forest Service officer, a Forest Supervisor, or a Regional Forester, as delegated at 36 CFR 223.8."
"(b) Free use without a permit up to the incidental use harvest level. No permit is required for the free use of a special forest product at or below that product's incidental-use harvest level, which shall be determined at the discretion of the regional forester or a subordinate officer. The incidental use harvest level covers small amounts of special forest products, such as cones, mushrooms, berries, acorns, black walnuts, or medicinal roots. Any free use of a special forest product that does not have an incidental-use harvest level is subject to this section's permit requirements."
References:
30 C.F.R. § § 223.216
30 C.F.R. § § 223.277
36 CFR § § 223.239
Restrictions vary among the individual National Forests, so make sure to find out the specifics when picking up your permit. In our area, mushroom gathering for personal use at Allegheny forest is allowed and we have been told that the allowance is 8 liters (2 gallons) plus 1 mushroom per adult per day although this can be revised at any time. If you wish to harvest more that this amount you will need to ask for a free permit.
For commercial harvesting you will need to contact the Allegheny National Forest for a commercial permit, which is beyond the scope of this document.
National Parks (NPS)
Picking mushrooms is only allowed in some of the National Parks. As always, check with the specific National Park to check their rules and regulations. There are currently no National Parks in Pennsylvania.
Private property
It's never okay to pick mushrooms on private land without permission—always ask first.