Species list from August Monthly Meeting on 08/21/2018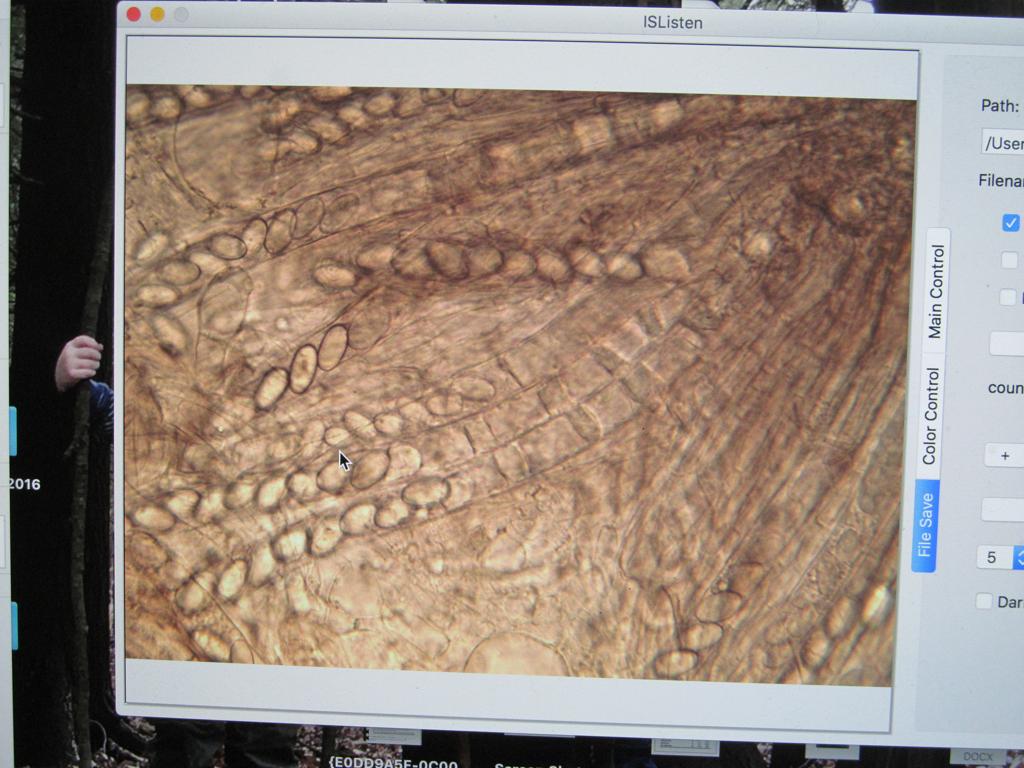 This months meeting was all about macro and micro examination of fungi. There was a demonstration of chemical testing and microscope stations set up around the meeting room. At the back of the room at the mushroom display a wet summer with frequent rain full brought in an abundance of species.
Species list entered by La Monte Yarroll. Identified by club identifiers and mycologists.
List of species found on the walk at August Monthly Meeting:
Amanita abrupta (),
Amanita amerifulva (American Orange-Brown Ringless Amanita),
Amanita pantherina (Panther Amanita),
Amanita ravenelii (),
Amanita rubescens (Blusher),
Arcyria denudata (Pink Carnival Candy Slime),
Armillaria tabescens (Ringless Honey Mushroom),
Artomyces pyxidatus (Crown-tipped Coral Fungus),
Asterophora lycoperdoides (),
Aureoboletus innixus (Clustered Brown Bolete),
Boletus frostii (AKA Exsudoporus frostii),
Boletus pallidus (Pallid Bolete),
Boletus separans (Lilac Bolete),
Boletus subvelutipes (Red-Mouth Bolete),
Boletus variipes (),
Boletus vermiculosoides (),
Cantharellus ignicolor (Flame-colored Chanterelle),
Ceratiomyxa fruticulosa (Coral Slime),
Chlorociboria aeruginascens (Blue-green Stain),
Chlorophyllum molybdites (Green-spored Lepiota),
Clitocybe gibba (Funnel Clitocybe),
Coniophora puteana (Wet Rot),
Cordyceps ophioglossoides (),
Cyathus striatus (Splash Cups),
Daldinia concentrica (Carbon Balls),
Geastrum saccatum (Earthstar),
Geastrum triplex (Collared Earthstar),
Gloeophyllum sepiarium (Yellow-red Gill Polypore),
Gloeoporus dichrous (),
Helvella crispa (White Saddle),
Hortiboletus campestris (Field Bolete),
Hydnellum concrescens (AKA Hydnellum zonatum),
Hydnum repandum (Sweet Tooth Hedgehog Fungus),
Hypomyces lactifluorum (),
Infundibulocybe gibba (Funnel Clitocybe),
Inonotus dryadeus (Oak Bracket),
Lactarius subpurpureus (),
Laetiporus cincinnatus (White-Pored Chicken of the Woods ),
Laetiporus sulphureus (Chicken Mushroom; Sulphur Shelf),
Leccinum albellum (),
Leccinum rugosiceps (Wrinkled Scaber-Stalk),
Lentinellus ursinus (),
Lenzites betulina (Multicolor Gill Polypore),
Lepiota cepaestipes (Onion-stalked Lepiota),
Leucoagaricus americanus (Reddening Lepiota),
Loweomyces fractipes (),
Lycogala epidendrum (Wolf's Milk Slime),
Macrolepiota procera (Parasol Lepiota),
Marasmius opacus (),
Marasmius siccus (),
Meripilus sumstinei (Black-staining Polypore),
Mycena haematopus (Bleeding Mycena),
Omphalotus illudens (Jack-o'-lantern),
Panellus stipticus (Luminescent Panellus, bitter oyster),
Peziza badia (Yellow Ear Cup),
Phellinus gilvus (Mustard Yellow polypore),
Phylloporus leucomycelinus (Gilled Bolete),
Phylloporus rhodoxanthus (Gilled Bolete),
Phyllotopsis nidulans (Mock Oyster),
Pluteus atricapillus (AKA Pluteus cervinus),
Polyporus elegans (Elegant Polypore),
Pseudocolus fusiformis (Stinky Squid),
Puccinia recondita (Jewelweed rust),
Resupinatus applicatus (Black Jelly Oyster),
Russula mariae (Purple-bloom Russula),
Schizophyllum commune (Split Gill),
Scleroderma citrinum (Pigskin Poison Puffball),
Sphaerobolus stellatus (),
Stereum complicatum (Crowded Parchment),
Stereum hirsutum (Hairy Parchment),
Stereum subtomentosum (),
Stereum ostrea (False Turkey-tail),
Strobilomyces floccopus (AKA Strobilomyces strobilaceus),
Tetrapyrgos nigripes (Black-footed Marasmus),
Trametes pubescens (),
Trametes versicolor (Turkey-tail),
Tremella foliacea (Jelly Leaf),
Trichaptum biforme (Violet Toothed-Polypore),
Trichaptum subchartaceum (),
Tylopilus badiceps (),
Tylopilus felleus (Bitter Bolete),
Tylopilus ferrugineus (),
Tylopilus plumbeoviolaceous (Violet Brown Bolete),
Xerula furfuracea (Rooted Collybia),
Xylaria polymorpha (Dead Man's Fingers)
Species not currently on clubs life list:
Amanita pseudovolvata
Butyriboletus brunneus
Caloboletus inedulis
Ditiola peziziformis
Lactarius pyrogalus
Mutinus ravenelii
Myxarium nucleatum
Species with newer names (already in list above):
Leucocoprinus cepistipes (),
Tolypocladium ophioglossoides (),
Trametes betulina (),